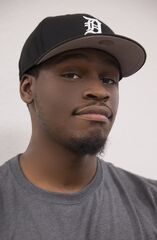 Torrian Crawford is a 3D animator and Graphic Designer who was officially hired by ScrewAttack in 2015 before the remastered version of the Samus vs Boba Fett Remastered Death Battle.
On August 20, 2018, he announced [1]on Twitter that he is no longer animating for Death Battle and that he will fully move over to work on Gen:LOCK for RoosterTeeth.
ScrewAttack Roles
[
]
Torrian is the animator for 3D Death Battles. Some of his fights include Godzilla vs Gamera, Iron Man vs Lex Luther, and Samus vs Boba Fett Remastered. He has also been seen in other videos, hosting several episodes of ScrewAttack Live.
Shows he has worked on
[
]
Death Battle, One Minute Melee, ScrewAttack Live
References
[
]