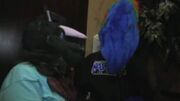 Tommy the Toucan is an anomophic toucan portrayed by Nick Cramer . The character began as a prank on Nick to take part in a furry convention without him knowing. This then lead to Tommy being used as Nick's alter ego. Tommy is an aggressive toucan that goes to conventions to annoy people. Nick apparently transforms into Tommy when angered or saddened.
Nick eventually stopped becoming Tommy at conventions, as he found himself being too mean to people.
In Nick the Destroyer , Nick picks up Tommy's head, informing Craig that he has been accidentally killed.
Tommy runs away from shooting tanks in Centipede Randomness , before he and a masked Jose prepare to fight. Tommy is killed.
Nick transforms into Tommy in Creepy Ads , and cries "Nooo!"
Tommy tries to convince Nick to annoy people at a convention, but Nick doesn't want to in Crazy Personalities . It is revealed that Nick is talking to himself.
In Altered Toucan , Nick's feelings are hurt hard enough that he transforms into Tommy, and punches Craig. Craig tries to sound an alarm, but fails. Tommy kills Ryan, and Corey shoots at Tommy. Tommy turns back into Nick, and he states that he hates when that happens.
Tommy tells Byron the intern that he didn't get the job in the 2009 Summer Intern Interrogation .
Tommy's full name is Thomas Michael Robert Toucan the Fourth in Ultimate Gamers . He auditions to be apart of the Ultimate Gamers. He auditions by telling his bizarre, and depressing back story involving his parents being poached.
Tommy has bird flu in Somebody Dies , and Jose prepares a shotgun to put him down. Magically, Tommy feels better.
Tommy is the Closet Parrot , who has to find a new intern in the closet. He also is revealed to protect the ScrewAttack HQ from burgulars, and shoots Ben, who is an intruder. Tommy is told to get food for Craig, and walks up to the Drive through to order it.
In Never Say No To Purple , when Chad says that he doesn't want the Purple Stuff, Tommy kicks his laptop away. He also throws Chad's Xbox at him, and blows up his car. it is revealed that Bryan has been threatened with his life by Tommy if nobody takes the purple stuff from him.
I Believe I Can Fly has Tommy going out in public, making a fool of himself by trying to flap his wings and crowing loudly, before falling to the ground as he fails to get off of the ground.
Nick goes to Perv Con dressed up as Tommy, thinking he is going to "Fury Con". After being told that it is actually "Furry Con", Nick becomes worried. Tommy interviews some of the other patrents. After they get kicked out, Tommy becomes furious.
Tommy runs to Craig and panics as the veloceraptor approaches in The End is Here .
Tommy and Ben walk down the corridor, before Tommy demands Ben to do chores in Best Dream Ever .
Nick dresses as Tommy and has a nerf gun fight with Jared in The Bucket of Oblivion . 
Tommy / Nick is served for Thanksgiving in A Very ScrewAttack Thanksgiving .
Tommy is once again guarding the HQ in 'Twas the Night Before Christmas , and ends up killing Santa, and being forced to take his place. Tommy flies across the night sky.
Tommy works for Peter Molyneux in his new studio, 'Twenty Toucans' with 19 regualar sized toucans.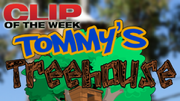 Tommy gets his own children's TV show in Tommy's Treehouse , where he hosts the show with Craig and discusses killing hookers in GTA, dances with Craig and how to take advantage of the viewer's parents.
In The Battle for (A Trip to) Japan , Nick transforms into Tommy, and fights Chad. Chad killed Tommy's sensei after learning his fighting style. Tommy is killed by Chad, and Craig reveals that they were brothers.
Tommy played some of Mario Party 2 on Screwin' Around. His beak regualrly got in the way of the others.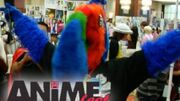 Tommy goes to
A-Fest
to celebrate his birthday party. After that doesn't work out for him, he searches
A-Fest
for women.