ScrewAttack have released four DVD's on their store.
ScrewAttack's 8 Bit Glory DVD
Edit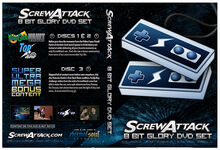 Product Description: The 8-Bit Glory DVD Set is ScrewAttack's 1st ever DVD! It contains TONS of 8-bit Video Game Vaults, 2 top 10's with never before heard commentary PLUS a 3rd bonus disc containing out-takes, behind the scenes footage, shows that never saw the light of day, videos that have never been seen on ScrewAttack.com before and MORE!
ScrewAttack's Too HOT for the Internet
Edit
Product Description: ScrewAttack.com's second DVD is HERE! The Too HOT for the Internet DVD!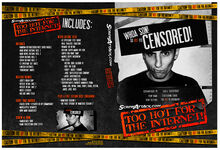 This DVD is made entirely of never before seen material! Jammed full of outtakes, never before seen videos, interviews, commentaries and so much more Plus a FREE bonus disc containing Nametags Season one! This DVD is a must have for any ScrewAttack fan! We swear it isn't porn!
Metal Gear Ben
Edit
Product Description: ScrewAttack.com's first episodic action series Metal Gear Ben is now available on DVD! This DVD contains MGB Episodes 1-9 with commentary. Plus tons of bonus features including a bonus episode featuring Keith Apicary, outtakes, a bonus How to with Agent Chad, a remake of the original MGB Clip of the Week and more! This 2 disc set will make any MGB fan happy!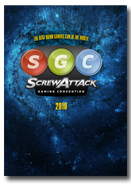 SGC 2010
Edit
Product Description: This DVD contains hours of footage from ScrewAttack's Gaming Convention in 2010. Tons of panels, shows and fun from all the e-content producers you love! AVGN, ScrewAttack, Life and Level, Game Overthinker and many more! If you missed out on SGC 2010 or just want to re-live it, pick up your copy today!