Marathons are live streams that usually take up at least a 24 hour live stream.
Birthday stream
Edit
See: Birthday marathons
Each year around February 14th, the crew put on a 24 hour stream to celebrate another year of existing.
Mario Party Marathon
Edit
With the success of Mario Party After Dark, the crew decided to have a 12 hour marathon playing all of the Mario Party games.
Hosts: Chad, Sam, Austin, Nick, John, Sean, Austin, Parker, Shaun, Bryan, Ben, Hybrid Rain, Torrian
Games Played: Mario Party 10, 9, 8, 6, 5, 4, 3, 1 (7 had a scratch on it, and they ran out of time for 2)
Date: 17th April 2015
See Also: Mario Party After Dark
Super Smash 4 stream
Edit
In November 2014, ScrewAttack held a 24 hour stream to celebrate the release of Super Smash Bros for Wii U. The first 12 hours involved the team playing the older games in the series, while the second 12 hours was playing the new game.
Hosts: Craig, Nick, Austin, John, Chad, Shaun, Ben (are there more)
Games played: Super Smash Bros (Nintendo 64), Super Smash Bros Melee, Super Smash Bros Brawl, Project M, Super Smash Bros for Wii U.
Dates: November 20th 2014
There were fourteen Super Smash Bros flight pads that were won by g1's during the stream.
Kickstarter Stream / Craig-A-Thon
Edit
Dates: 2013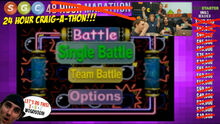 In order to bring back SGC, ScrewAttack made a very long stream to raise the funds for SGC to go ahead. It started with a 24 hour stream with the crew, and then 24 hours of just Craig. Although, this didn't quite go to plan, as Craig was away for several hours during his time.
12 Hour SGC Marathon
Edit
Dates: 2013
To celebrate the return of SGC, the crew put together a 12 hour stream.
Community content is available under
CC-BY-SA
unless otherwise noted.