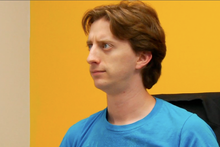 Jared "ProJared" Knabenbauer is a former member of ScrewAttack. He was originally hired to run GameAttack, and when it closed down he worked for ScrewAttack itself. Jared is a self-taught editor and at ScrewAttack went on to do a lot of voice over work, and several shows of his own including Nametags and Newsroom. He also had host roles in Sidescrollers, Hard News and Reboot or Retro.
Jared has one of the most quirky personalities at ScrewAttack. He developed a sort of catch phrase at the end of each Hard News episode where he would flick a pen that he was holding. It became surprisingly popular to the point that other ScrewAttack members did a pen flick whenever they hosted the show. Terrible Thursday was a popular Screwin' Around spin-off that Jared made with Chad, and Jared played up his reactions to many terrible games for the entertainment of the fans, among the most popular being Predator for the NES.
Jared left ScrewAttack when he was fired in 2012, where he pursued his increasingly popular YouTube career. While there was controversy and confusion on his departure, he still returns for SGC and Mario Party After Dark. His most popular YouTube video is 'How to Make Slender Not Scary', which has over 6 million views to date. He also has over 500,000 subscribers on his channel, "DMJared" (Dungeon Master Jared). He also has other popular series including ProReviews and Pokémon Nuzlockes. Also, his main channel ProJared finally reached 1 Million Subscribers on Youtube, although that number has dropped since then.
ScrewAttack Roles
When first hired, he worked at GameAttack, and produced a show called 'Nametags'. He became host of several shows including Hard News, Sidescrollers and Reboot or Retro. He also produced and starred in Newsroom.
Shows he worked on
Nametags, Newsroom, Screwin' Around (Terrible Thursday), Mario Party After Dark, Reboot or Retro, Hard News, Sidescrollers, Clip of the Week, Reviews, The Best Ever etc.
Post ScrewAttack
This section especially could use some accurate dates.
Jared left ScrewAttack in 2012 to work on his own YouTube channel, which was becoming popular at the time. To date, it has over 900,000 subscribers, with his most popular video receiving over 6 million views. Jared does a review show called 'ProReviews', and also does Pokémon Nuzlockes. Other shows include One Minute Review. He joined Normal Boots during it's reboot in 2014.
See his YouTube page dmjared and ProJaredPlays. He also has a twitch channel.
Community content is available under
CC-BY-SA
unless otherwise noted.