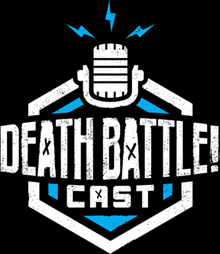 Death Battle Cast is a podcast hosted by the hosts, writers and animators of Death Battle. The show discusses the behind the scenes of Death Battle, as well as a discussion of what is happening in "nerd" culture. The show began in November 2016, after ScrewAttack split apart from the GameAttack crew. Ben, Chad, Nick, Sam and Torrian hosted the show. Occasionally there will be a guest presenter, usually an animator or writer or the show.
In 2017, when ScrewAttack moved from Dallas to Austin to be in the Rooster Teeth studios, a new set was made for them. A more permanent set was created in early 2018. The show was also produced by Rooster Teeth staff, including former ScrewAttack member Bryan. Austin also produced the show, and managed the Out of Context segment.
Segments
Edit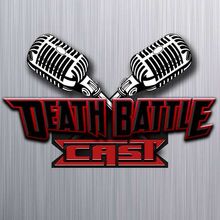 Community Death Battle - The crew come up with a Death Battle suggestion each week for the community to debate. Some of the Tweets are read out in the following episode, before the hosts vote on the winner.
Out of Context - A comic book panel is shown. The panel usually has some kind of innuendo when taken without any context. Occasionally, the crew have to guess whether the comic panel is legitimate, or has been edited.
Thing of the Week - Torrian shows some footage from a movie, anime or show to show off the crazy feats that the characters have. The segment was removed due to copyright issues, after Torrian left the action playing for too long.
Questions - The community asks Death Battle related questions for the hosts to answer. Occasionally the questions segment is replaced by an artwork segment. When a Death Battle has been released, the community can ask questions about the new episode.
What's Going On - A new segment in 2018, a discussion about what is happening in the news of popular culture.
Occasionally, a quiz show would be made for Torrian, demonstrating his lack of popular culture knowledge.
List of episodes
Edit
List of Death Battle Cast episodes
Community content is available under
CC-BY-SA
unless otherwise noted.