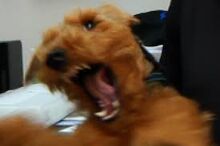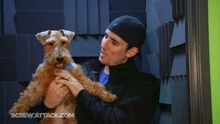 Bowser is Craig's pet dog. Bowser has featured in several videos, mostly Clip of the Weeks, Screwin' Around episodes and Marathon streams. Bowser has occasionally been seen with a cone over his head.
Clip of the Week Appearances
Edit
In Bowser's Lost, Nick is supposed to look after Bowser, but Bowser goes missing. It turns out that Chad was playing a prank on Nick, and Chad had Bowser. ScrewAttack: The Game featured Bowser being put into the compactor with Craig, along with the rest of the crew.
Bowser "hosted" The Sopa Act with Craig filling in his voice. Bowser and Craig play in the outtakes.
Bowser also appeared in one of the endings to the Choose Your Own Adventure episode Eggcellent Egg Hunt of Eggcellence, where he is seen playing with Craig
Screwin' Around and live stream appearances
Edit
Bowser almost swallows a packaging peanut during Screwin' Around with Gameboy games. Craig has to get it out of Bowser's mouth.
In Screwin' Around with Burnout / Mario Kart Wii / Call of Duty, Craig interrupted the stream to put Bowser into it. Craig makes a poll about who is the star of the show. Bowser also sneezes on Ben and tries to eat Bryan's hat.
Bowser appears during several birthday marathons and the Craig-a-Thon.
Other mentions
Edit
In an outtakes to a Top 10, Bowser poops on the floor, and Nick calls him a "poop machine". Craig yells at Nick for saying this.