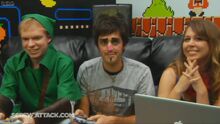 Wind Waker Wednesday was a Screwin' Around spin-off hosted by Ben and Lauren. Ben would play through the game as Wind Waker is his favorite Zelda game. Both hosts would dress up as either Link (Ben) or Tetra (Lauren) during their play-through. The show began during February 2012 and ended in July 2012. Other members of the ScrewAttack team also came into the streams, including Sam who attempted to rival Lauren's role as Tetra (and became Hobo Tetra), and Nick who Lauren dressed up as Tingle.
Between Wind Waker Wednesday and Lollipop Wednesday, the Iron Man of ScrewAttack was played during it's timeslot, and then the following week, Ben and Lauren played in Ben's old Animal Crossing game.
Lollipop Wednesday was the second game Lauren and Ben played through, but this time Lauren played. The game chosen was Lollipop Chainsaw. There was a competition for the people in the chat to guess how many times Lauren would die during the course of the game.
Mass Effect Adventure was the third and final Wednesday show. As well as Ben (who played while dressed in a Mass Effect jacket) and Lauren, Sam joined the cast. Also, a fog machine nicknamed "Fogginhimer" was also bought in to pour out smoke at dramatic moments - or when Sam wanted to annoy Ben. There was also a competition with the fans where the g1's would compete on making the best artwork pieces for the week, which would be voted on. The original plan was to play through all three Mass Effect games, but only Mass Effect 1 was finished. The chat was in charge of making decisions such as whether Shepard should be Paragon or Renegade during the course of the episode, and also make other decisions throughout. It aired between the 13th of September 2012 to May 2rd 2013.
List of episodes
[
]
Wind Waker Wednesday
[
]
Between Shows
[
]
Animal Crossing - July 19th 2012
Lollipop Wednesday
[
]
Mass Effect Adventure
[
]

See Also
[
]